I'm cooking Thai Yellow Beef Curry Slow Cooker for tonight's dinner. Very simple recipe but tastes and smells amazing.
Ingredients
1 kg gravy beef diced
4 potato diced
1 onion diced
2 cups frozen (or fresh) green beans
1 red capsicum diced
400 mls coconut cream
1/2 cup beef stock (liquid)
1 tbs ginger crushed
3 tbs yellow Thai curry paste
3 tsp garlic crushed
1 tbs fish sauce
2 tbs brown sugar
1 tbs cornflour
1 tbs lemon juice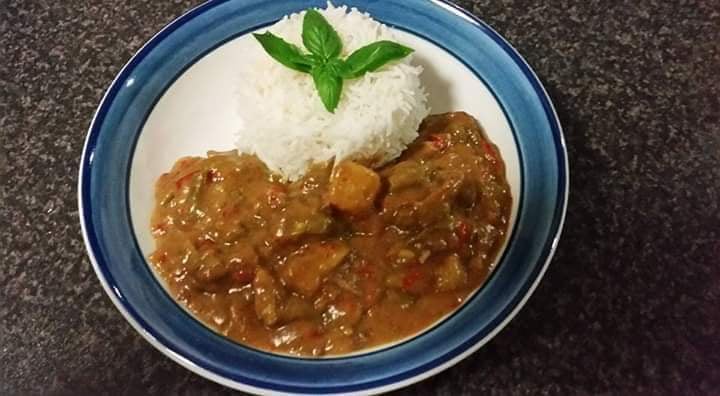 Method:
STEP 1 In the slow cooker combine beef, potatoes, onion, green beans, capsicum, stock, ginger, curry paste, garlic, fish sauce and brown sugar.
STEP 2 Cook on slow for 8 hours or high for 4-5 hours (time will vary a bit – my slow cooker cooks really fast/hot so I just cook until the meat starts to fall apart).
STEP 3 Add coconut cream and stir through. Mix cornflour with juice from the curry into a paste and add to the curry.
STEP 4 Cook on high for a further 30 minutes with the lid off to allow the sauce to thicken.
STEP 5 Stir in lemon juice and serve with boiled rice.
3 INGREDIENT BANANA BREAD IN THE SLOW COOKER
Searches related 
>slow cooker beef curry
2. >beef curry recipe
3. >beef curry with coconut milk and potatoes
4. >easy beef curry recipe
5. >slow cooker beef curry with curry powder
6. >slow cooker beef curry coconut milk