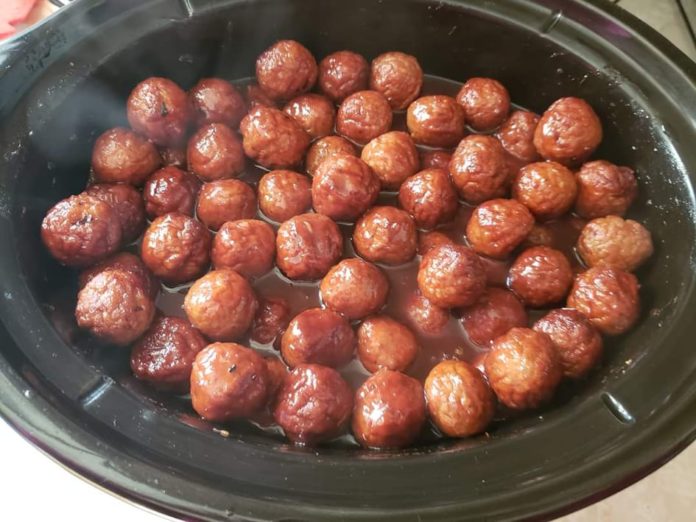 I made these Crock Pot Cocktail Meatballs meatballs at a crockpot war contest I entered this past February. I got so many compliments how delicious they were.
Cocktail Meatballs
These cocktail meatballs are a big hit at my family gatherings and parties I go to. They are so flavorful and easy to put together.
Servings: Makes approximately 128 meatballs
Ingredients:
1 large bag of frozen ( 1/2 oz ) mini homestyle meatballs. I buy the cook's perfection 128 count meatballs
2 (32 oz) Jars of Grape Jelly
3 bottles Heinz Chili Sauce ( I add the 2 bottles 1st if I need more I add a half of jar)
Hot sauce ( your favorite brand)
Optional if you like a extra kick
1 Tbsp dried minced onion flakes
Steps:
1. Spray crock pot insert with non stick cooking spray and set aside.
2. In a medium sauce pot add the chili sauce, grape jelly, hot sauce if you want and the dried minced onion flakes. Take a little hot water and add it to one bottle of the grape jelly and shake it up to get the jelly that didn't come out. Pour the water into the sauce pot. Let sauce cook until the jelly is melted and stir.
3. Add the meatballs to the crockpot and pour the sauce over the meatballs and toss to coat.
4. Cook meatballs on low for 4 to 6 hours.
5. When finished cooking place meatballs in a decorative dish or bowl. Also have toothpicks to serve the meatballs with.
Notes I take out the bag of homestyle meatballs from the freezer the day before so they thaw out.
Crock Pot Cocktail Meatballs By Suzanne Duggan
Other posts: