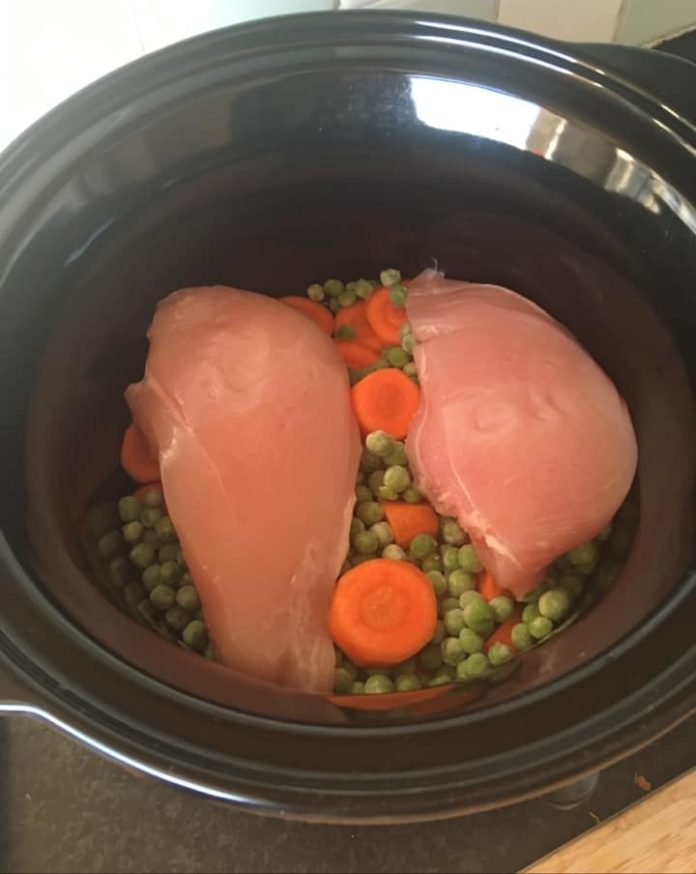 I tried Slow Cooker Chicken casserole
I know it looks horrible in the pictures but it was lovely
What I used-
2 Chicken fillets,
2 medium sized carrots,
peas & chicken casserole mix.
Method-
•chop the carrots.Then add carrots & peas into slow cooker
•Place the chicken fillets on top of the vegetables

* Empty the packet of casserole mix on top.Give everything a stir
* Pour a jug of hot water( about 350ml) into the slow cooker

* Cover with lid.
Low setting(8-10 hours) or high(4-6 hours) I had mine on low.

When it's all done,shred the chicken(once I did this,I left it cook a few minutes more)

Then serve with what you like😊 I had roasties & kale.
By Rachel Robinson
…………………………………………..The End
Slow Cooker Chicken casserole
Recipe:
500g chicken breast (cubed)
Two celery sticks
Three large carrots
Two medium red onions
Mushrooms
New potato's
1 Tbsp Lazy garlic (cos I'm lazy ha)
Abit of rosemary
Chicken Oxo
400ml water
All in raw
5-6 hours on low

(Last half hour left lid off and put on high to cook off some of the water, so it thickens) or you can add cornflower mixed with Abit of hot water then mix it in but I didn't have any ha
By Kristianna Draper
……………………………………………The End
Slow Cooker French chicken casserole
Ingredients:
1-2 pieces of chicken per person depending on size
2 large tablesoons of dijon
4 rashers of bacon
2 onions diced
2 stalks of celery diced
4 cloves of garlic crushed
1 cup of chicken stock
1 cup of cream
2 teaspons of tarragon
salt and pepper to taste
Method
Coat chicken in flour and brown in pan, add to slow cooker
mix all ingredients together and pour over chicken. Cook on high for 1 hour and low for 4 hours
i like to add green beans in the last half hour, serve with rice or creamy mash.
By Jacqueline Harris