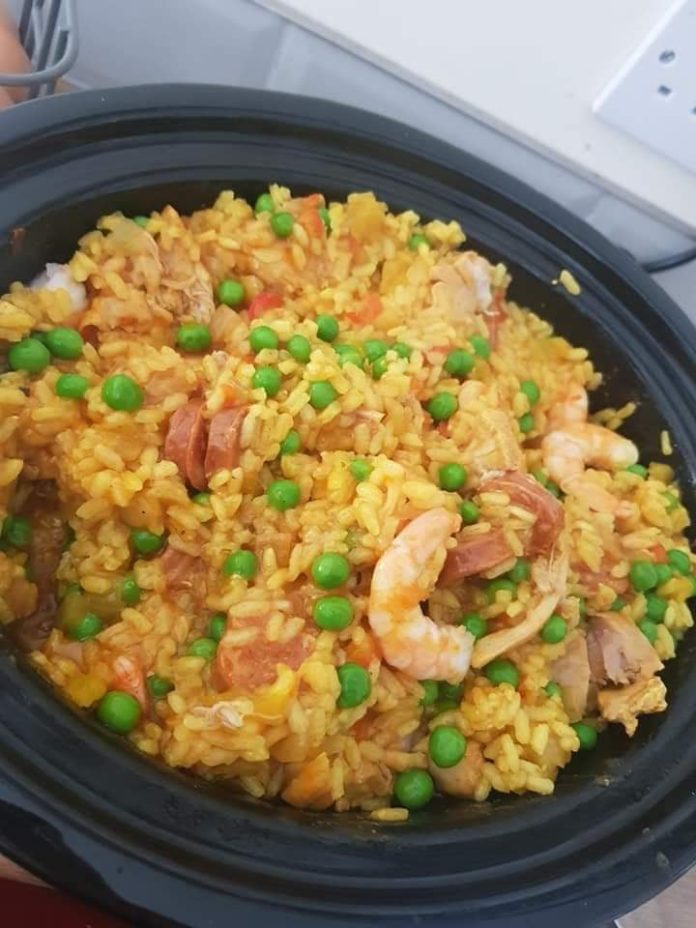 Paella today, I know some would say not traditional when done in the slow cooker but we love it
Ingredients:
Chicken thighs- skinless and boneless (600g roughly)
Chicken stock (800ml approximately)
Whole chorizo
Bag of cooked King prawns (defrosted if not fresh)
peas (180g roughly I used but just chuck them in)
2 peppers
2 onions
paella rice (I used about 350/400g
Turmeric (1.5 tsp roughly)
Paprika (1.5 tsp)
Garlic powder (1.5 tsp)
Pepper (1.5 tsp)
Saffron (just a small amount sprinkled in as that shits expensive )
Directions:
I fried the chicken and chorizo on a really high heat for about 3 minutes just for some colour so it looked nice but you could probably get away without doing that.
Then put chicken, chorizo, stock (i used 2 stock pots and made them up with boiling water), chopped up peppers and garlic , turmeric, paprika, onions powder, saffron and papper in the slow cooker on high for 3 hrs.

Than add the rice and leave to cook for about 40 mins I didn't stir it at all during that time but you could if you wanted to avoid it sticking at all. Keep an eye on it as some slow cookers will cook quicker than others on high. Basically when it's absorbed nearly all the liquid add the peas and prawns and cook for a further 15 mins or so until the peas and prawns are cooked/warmed through.
Hope that makes sense.
Any questions just ask
i defrosted the peas, either leave out while the chicken etc is cooking or pour some boiling water over them before they get added.



By Jess Louise