Slow Cooker Honey garlic chicken! Served on top of rice, with chips or BOTH!
My absolute FAVOURITE dish!!
The sticky yummy sauce is amazing!!
(If you don't like mustard you can leave it out, use ketchup or nothing. Just add more soy sauce!)
Recipe:
Cup of honey (which is the majority of the small bottle of honey in the picture below )
Add quarter cup of soy sauce,
Add a tsp of balsamic vinegar (or plain)
Minced fresh garlic (as much as you like) add that.
Add garlic granules, basil and oregano (if you have it),
And then add a huge dollop of mustard (Colman's or any other)!
Add salt and pepper.
(Don't worry about exact measurements, this always works!)
Place your chicken breasts, legs, or thighs (I prefer thighs) and fry in a well oiled pan until skin browned, then place them in the bottom of your slow cooker.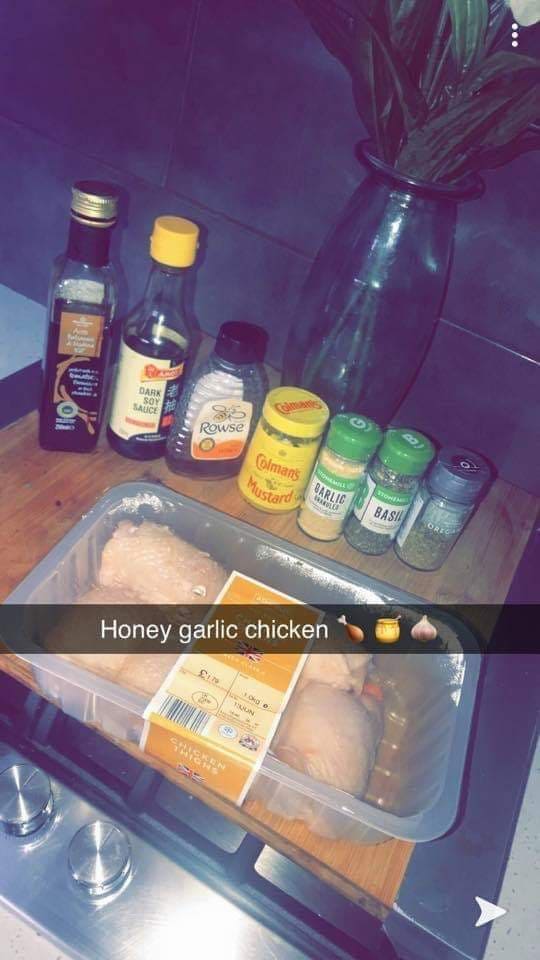 (If you feel like it is burning or going to burn add half a cup of water)
(Your sauce should cover your chicken so use plenty of honey and some soy sauce)
Make sure ingredients for the sauce are mixed well and add to slow cooker, pour over the chicken. Cook on low for 7 to 8 hours.
If your sauce is to watery you can take the chicken out and add flour over a high heat for 20 mins.
Serve with lots of bread to mop up your honey mustard garlic sauce with! Also rice or chips ❤️
Enjoy
By Katie Paizanou
Searches related 
>slow cooker honey soy chicken
2. >honey garlic chicken breast slow cooker
3. >slow cooker honey chicken
4. >slow cooker honey garlic chicken and veggies
5. >slow cooker chicken thighs